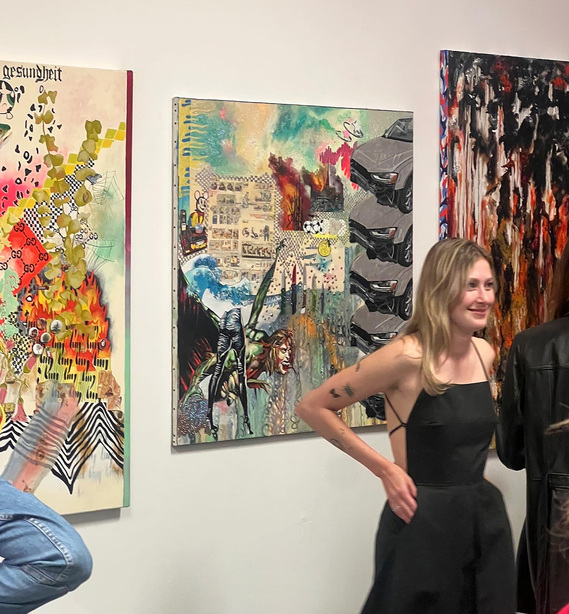 In an act of reclamation, artist Hannah Buechler is breathing new life into the discarded objects of the everyday. Building upon her studies in the fields of fiber and painting, Buechler creates intricate works through dynamic plays of materiality. With an emphasis on textiles, bringing in recycled fabrics and clothing, and references to elements found in nature, she constructs abstract scenes that rethink the relationship between the fashion industry, the environment, and our own identities.
For Buechler, each piece is a journey of experimentation, allowing a confluence of objects and gestural forms to intersect until the envisioned arrangement is achieved. Expressive painting and mixed-media approaches to repurposed objects are complemented by her extensive beadwork and embroidery. An emphasis on bold palettes of colors radiate amidst the shimmering plays of light on pieces of amalgamation materials that cannot help but entrance her viewers.
Her compositions are formed through a fusion of influences, stemming from aerial photography to fashion design. What emerges are the patterns of life itself. Armed with knowledge through her professional endeavors in fashion design, she reveals the shared formulas that shape both our environments and the carefully selected coverings we adorn in the process of self-identifying, exploring a history of how we as humans inhabit, interact, and impact our ecosystems. In deconstructing her materials, she exhumes new narratives about the symbiosis and conflict between our consumerist and natural worlds.
Hannah's works are displayed world-wide, such as the United States, Paris, and Hong Kong. Many of her pieces are part of SCAD's permanent collection, a designation the university reserves for items "exceptional for their quality, depth, and historic relevance." Now residing in Los Angeles, CA, she works as a Senior Designer for fashion house, Libertine, specializing in print and pattern textile design, screen printing, graphic design, and photo editing. Buechler also works for a college counseling company as a tutor, guiding high school students with their art portfolios and the college application process. Hannah continues to develop her own studio practice and is always thrilled for collaboration opportunities or commissions.